Guess What day it is!!!!! No not hump day...Ha! Yet!!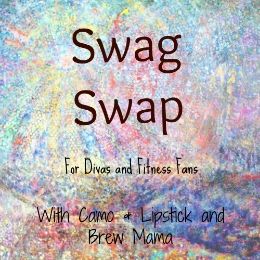 Its #SwagSwap14 day!!!! At the beginning of April,
Camo & Lipstick
and
BrewMama
came up with the phenomenal idea to had a fitness or diva pen pal/ partner. We would meet get to know each other and have fun!!!
There was a "break the Ice" email that housed questions.
Here are my partners Questions and answers.
1. What would be your dream vacation.
Anywhere warm! I am ALWAYS cold. Even yesterday, it was 75 but breezy and after my run I couldn't get warm. That being said I also love to ski and camp and all kinds of stuff. Traveling is my favorite. I have been to tons of places in the US and I've been to France, Guatemala, Mexico and Canada. I really really want to go to Italy.
2. If you had to choose three things that make you happy in your life, what would they be?
My boyfriend and his two kids are my favorite things. I have lived with them for four years. I also have two dogs I love and treat like human kids. I'm pretty sure they do not know they're dogs. I love working in the medical field and learning. If I could afford to be a professional student I would. I am currently working towards getting in to physician assistant school. I have my BS in Biology already. My education is my biggest accomplishment in life and I am ridiculously proud of it lol.
3. What's your biggest pet peeve?
My biggest pet peeve is also yours! (That's where I started realizing we might become besties lol) I hate bad grammar! I read that question and your answer to my boyfriend and he immediately said....wow you two are the same lol. I am also going to say another pet peeve is worrying. My boyfriend is a state trooper and I worry......CONSTANTLY.
4. What is the best meal you have ever had?
This is where I knew we are soon to be besties lol. I LOVE Mexican food! Quesadillas, tacos, guacamole. I love it all. I also love anything Italian. I guess my favorite food is probably my grandmother's galumpkis and perogies. (We're Polish on my grandpa's side).
5. Talk about one important goal you have for yourself.
My big goal other than get to my ideal fitness level would be to get my PA license and work in an emergency room. I love working in an ambulance as an EMT and that would be my next step.
Kassie D …smh…this woman is my twin. I swear our answers were nearly IDENTICAL!!!! She is my Sole Sista!!!
There are reasons why people meet….She is funny, has a busy lifestyle, not needy and easy to talk to. We clicked immediately. I luv her!
Check out the goodies she swag swap drenched me with!!!
I LOVE THIS!!!! It's so AWESOME!!!

The "Just Do It" tee was too big for the pic!